Need a garage door cable repair service? Call us! We can provide the best, the fastest and the most competitive garage doors cable repair service.
A garage door works with the help of various components or parts. While every part plays an essential role, the cable helps your garage door work properly and smoothly. You have to pay attention to the signs to know if you need a garage door cable repair service. For fast cable repair service, call us. We have skilled and certified technicians who have been in the garage door repair industry for many years now.
What are the Common Issues of Garage Door Cable?
Garage doors have extension springs. Once these extension springs break or rapture, increased energy or pressure will be put on your garage door. The increased pressure could lead to serious injuries to you and to your car. The pressure is extremely strong which can wreck your car.
That is the reason why safety cables are extremely essential. Once your garage door has these cables, these will give security once the springs rapture and break.
What Happens If the Cable is the Main Issue?
Once your garage door sticks when it's closed or opened, this can be a good indication of cable issue. On the other hand, to know if the garage door cables are really causing the issue, diverse inspection processes are required. Other problems could also lead to your garage door to hang or stick, and so, you have to call an expert for inspection.
Garage door opener repair remote control could also cause issues with your garage door, therefore you need to check the sensors and the batteries as well. Once your garage door doesn't use a remote control, check the wheel track for some obstructions or obstacles. The weather could also cause your door to stick. Once these issues don't cause the unit to stick, well the problem could be the garage door cable.
Another issue with your garage door is that it lowers extremely fast. This issue must be fixed right away in order to avoid potential injury while closing and opening your garage door. The best solution to this issue is replacement, due to the fact that a garage door which lowers fast is due to weak springs or a frayed or not working cable.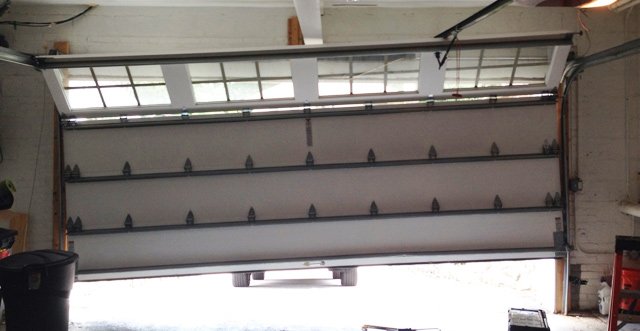 The Importance of Calling a Professional Garage Door Repair Company
A garage door cable could be an extremely dangerous component of your unit to repair or replace with no appropriate training and state of the art tools. The garage door cables are usually under incredible levels of tension, and so, should be handled with extra care by skilled and well-trained professionals. For security reasons, it is extremely suggest by the expert that if you faced with frayed or broken garage door cables, please call an expert garage door repair company. Our skilled and well trained garage door technicians will securely and thoroughly assess and examine the problem, and then take essential steps to bring back the condition of your garage door. This will be done effectively and efficiently.
A malfunctioning garage door could be risky and once it is not fixed properly, somebody could get injured. Call us for more information about our garage door cable repair service!
Raleigh, Cary, Holly Springs, Morrisville, Durham, Chapel , HillWake Forest, Carrboro, Hillsborough, Rougemont, Garner, Clayton, Wilmington, Louisburg, Wendell, Angier, Smithfield, Pittsboro, Moncure, Siler City, Burlington, Mebane, Graham…and everywhere in between!